A Closer Look Into Workplace Safety, Reducing Turnover and Improving Performance
When your company implements the HR best practices and hiring assessments it needs to find, select and develop the best-fit employees, your business thrives – in both morale and your bottom line.
Discover how to achieve this level of personnel success by reading the HR case studies and business outcome reports below. In each human resources case study, you learn how a previous Select International client improved workplace safety, worked on reducing turnover and increased overall employee performance.
If you have any questions about the materials in these human resources case studies, or when you're convinced that the right hiring resources and assessments really do make a difference, contact Select International.
Improving Performance
---
Accurately Assessing Professionals
+
The Assessment
A specialty beverage company contacted Select International to add a hiring assessment to their selection process for engineering positions. This company prides itself on being dynamic, innovative and socially responsible with a strong organizational culture of collaboration and continuous improvement. The company particularly wanted to identify individuals who fit not only core competencies but also the organization's culture.
As in many other companies, this business hired individuals at the professional level with a strong emphasis on experience and education. But, their hiring process failed to account for key competencies such as emotional intelligence and project management.
With a large number of engineers to hire because of rapid growth, the company decided to implement the Select Assessment for Professionals to help them identify top talent that also fit their unique culture.
The hiring assessment measures key competencies for success in professional roles, including planning and organizing, emotional intelligence, accountability, teamwork and interpreting information.
The company began with a validation study for their current engineering workforce to examine the relationship between the Select Assessment for Professionals and engineer job performance. As part of the study, they asked all of their current engineers to complete the assessment, and job performance ratings were collected from all engineering supervisors.
These analyses are based on a sample of 64 engineers with complete assessment data and supervisor performance ratings. The results showed a strong correlation (r=.46) between an individual's score on the assessment and overall job performance.
Correlations in this range are considered to be strong predictors of subsequent performance. So, the client decided to use Select Assessment for Professionals to hire more successful engineers.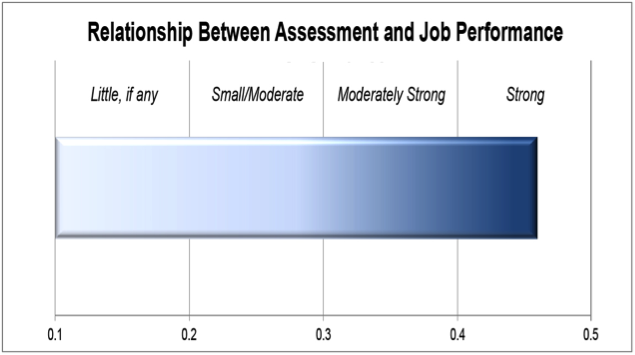 Figure 1
To further show the accuracy of the hiring assessment, Select International conducted additional analyses. When the lowest performing engineers (bottom 25%) were pulled out of the sample and examined more closely, they were almost seven times more likely to be in the bottom two bands (Bands C & D) than the top two (Bands A & B) of assessment results.
As shown in Figure 2, none of the individuals in the bottom 25% of job performance were categorized in Band A (the most strongly recommended hiring category). If this hiring assessment had been used to hire the current engineers, 87% of the lowest performing employees wouldn't have been recommended for hire.
The final results were clear: The Select Assessment for Professionals would significantly improve the productivity of the company's engineering workforce.

Figure 2
When incumbent engineers were asked to provide their reactions to the assessment, their overall feedback was positive. Respondents thought the hiring assessment was relevant and helpful, including some of these comments:
Overall, I think this is a good tool to evaluate a large number of candidates quickly with minimal investment of time.
I think it is a good tool to supplement the current process.
Interesting content in the introspective questions.
The data speaks for itself: The Select Assessment for Professionals proved to be an accurate hiring assessment for hires at the professional level – in addition to being well received by job candidates.
---
Multi-Level Assessment Garners Excellent Return on Investment
+
The Situation
A mine located in Magna, Utah, boasts the world's largest man-made excavation, measuring two and a half miles wide by three quarters of a mile deep. The mine's owner is also the second largest producer of copper in the United States, providing approximately 13% of the country's copper needs. In continuous operation since 1906, the mine was facing closure in 2010 if productivity issues could not be resolved.
The Company needed to justify a substantial investment to ultimately take the operation underground and extend the life of the mine to 2040. In 2001, the organization's management determined that a "step change" in their operations was required if they were to continue to operate beyond 2010.
The Company employs over 1,400 people at this mine, which has been represented by the United Steelworkers union since 1943. The operation is divided into four primary areas: mining/crushing, concentrator plant, smelter and refinery. Internal analysis of the processes revealed that the most serious bottleneck was in the smelter operations. Maintenance issues within the smelter operations were identified to be the root cause of the problems.
In 2001, the smelter was operating at 89% capacity. In January 2002, a leading workplace safety management organization was selected to replace the incumbent maintenance workforce and take over maintenance responsibility of the smelter operations.
The Solution
In preparing to mobilize the project, the management firm partnered with Select International to develop a plan to staff the project and also mitigate the risks associated with replacing an incumbent-represented workforce of 144 maintenance mechanics.
Select International managed an expansive advertising campaign, resulting in over 4,000 online applications. The Select International EZ App hiring assessment process reduced this number to 1,500 potential candidates. The incumbent employees were encouraged to apply for employment and were not required to go through the pre-screening process.
All potential candidates were tested to evaluate electrical and/or mechanical competency and behavioral traits that were determined to be important indicators of future success to the new employer. Over a period of 6 weeks, these efforts resulted in the identification of a pool of 490 qualified applicants from which the management firm would begin the final selection process.
Approximately 20% of the incumbent workforce applied for positions with the firm, of which more than 70% failed to pass at least one portion of the testing process. In March 2002, the firm took over the maintenance operations at the smelter with a workforce of 88 mechanics.
Outcomes
The mining company experienced a significant change in employee productivity, workplace safety and operation costs, including:
The workforce was reduced 40% from 144 to 88 employees, resulting in a substantial and immediate cost reduction for the client.
No unfair labor practice charges were filed by the USW alleging discrimination in failure to hire incumbent employees because of their union affiliation.
In the first year of providing maintenance services, the management firm increased the "uptime" of the smelter from 89% to 94%, which equates to one additional month of production through-put.
Prior to 2002, the workplace safety incident rate per 500,000 man-hours (M/H) at the smelter was 9.6%. In year one, the management firm's incident rate per 500,000 M/H was 1.6%. This incident rate has continued to drop and is currently .45%.
Annual attrition rate over the past seven years has averaged 2%.
The mining company was required to submit a progress report to its parent owner in 2005. This report reflected quantified productivity improvement and cost savings of $90 million over three years.
In 2005, the parent owner committed $170 million dollars to the East 1 pushback project, which extended the life of the mine another three years.
In 2007, the management firm's contract to provide maintenance services at the smelter was renewed for an additional five years. Opportunities for expansion of services into other areas of the mining operations are under consideration.
According to project management, this success was a product of many factors. Certainly providing sound management direction and proven maintenance management processes and expertise was critical, as was reducing turnover. However, in their opinion, the single most important piece was the ability to "hire the best" employees available; employees who were incrementally better – both in attitude and competency – at performing the work.
---
Employee Assessments: A Valuable Resource to Strengthen your Leadership Team
+
The Situation
One of the world's largest diversified resource companies was using 360-degree feedback surveys as an important component of their leader development process. With more than 40,000 employees working in over 100 operations in 25 countries, their leader development efforts were a critical part of their international business operations.
Because the company had diverse global locations, individuals had little or no direct reports and 360-degree surveys cost an extensive amount of time and money, the company was seeking another solution to enhance their leadership development tools. They needed employee assessment tools that would meet these specific needs:
Measure the unique competencies of their leadership model in a valid and predictive way
Be suitable for both individual contributors and leaders with direct reports
Require little resources to administer and interpret
Complement their existing assessment tools
The Solution
Through a partnership with Russell Consulting International, our affiliate in Australasia, Select International developed a "Leadership Self Assessment" solution to assess and develop the company's current leaders' leadership capabilities and potential.
This predictive psychological assessment allows individuals to measure their current capability to demonstrate the skills and behaviors of the organization's leadership model. By using this assessment, leaders and individual contributors are able to compare their scores to a consistent, objective profile for success.
The Leadership Self Assessment uses a combination of HR best practice assessment methods to measure a leader's natural tendencies and styles against the model. These methods include personal belief/personality items, situational judgment tests, ethical reasoning scenarios and critical/logical reasoning exercises. The tool also aligns with the company's strong value of safety by featuring a tailored component that focuses on beliefs regarding safe behavior, risk taking and ethical workplace safety decision-making.
Once the assessment was developed, a comprehensive pilot study was conducted across several parts of the globe. Participants were selected in a targeted manner to ensure a balanced mix of high, average and low performers within the company. In total, the study included over 90 employees from 11 facilities located across 7 countries, including the U.S., Canada, Australia, Chile and South Africa. Approximately half the participants were individual contributors, while the remainder had varying numbers of direct reports.
Based on a review of representative position descriptions and score results from the pilot participants, a "footprint for success" was established for the Leadership Self Assessment. This footprint outlined an ideal score range for each competency measured by the assessment, providing a consistent and objective profile for leadership success within the organization. With this footprint in mind, leaders were enabled to create targeted behavioral action plans to leverage their strengths against the profile and identify development opportunities.
Outcomes
The pilot results indicated that employee assessment scores were highly related to on-the-job performance. In fact, when comparing individuals whose overall assessment scores were in the top 10 percent versus the bottom 10 percent of those assessed, the first group had 4.5 times higher percentile ratings on overall job performance than the latter group, as shown in Figure 1.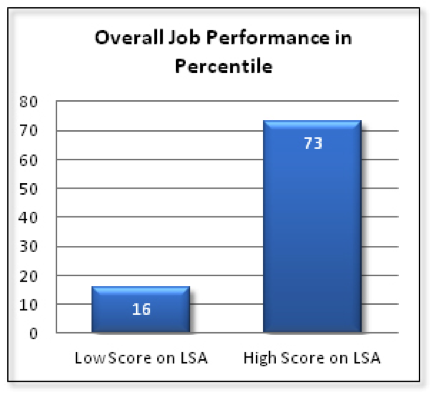 Figure 2
A high correlation was found between assessment scores and performance ratings (r = .54, p < .01). A correlation of this magnitude is not only statistically significant, but also indicates that the assessment is highly predictive of individuals' performance.
After completing the pilot, the company surveyed participants for their reaction to the Leadership Self Assessment in terms of their experience and the reporting output.
As shown in Figure 2, over 76% of participants agreed that they would recommend the tool to others while 69% said they found their results valuable.

Figure 2
Following the completion of this successful pilot study, the company now uses the Leadership Self Assessment throughout its business units globally, including a Graduate Training Program. They are currently looking at how this tool may complement existing hiring resources for leaders across the organization.
---
Excellence in Customer Service: Using Employee Assessments for Diagnosis and Strategy
+
The Situation
Following privatization of the communications industry, a leading firm in the United Kingdom needed to react quickly to remain competitive and profitable. Over the next several years, the Company made great strides in reorganizing their business and was equal to their competitors in terms of service offerings.
However, because the employees' average length of service was nearly 30 years, many were resistant to the transition and had failed to change their philosophy and behaviors.
The Company knew that, in order for them to be competitive and profitable, they would need to get everyone in the company on board with the new model. They implemented group trainings for their employees to build the skills they needed to succeed in the new company.
Unfortunately, this method of putting everyone through the same training sessions was ineffective and didn't make an impact. They wanted to take an individualized approach to the problem by identifying each employee's developmental areas and customizing training from there.
The Solution
The Company chose to focus performance improvement on the groups with the closest customer contact: the call centers. Their customer service ratings had consistently trended downward during the previous four years, and it was time to address the problem directly.
By partnering with Select International, the Company analyzed the target positions and worked with their leadership to set current and future performance standards. Together, they developed a solution that included using the Select Assessment for Customer Service (SACS) to measure key competencies for all existing employees in sales and billing positions at the Company's various call centers.
Additionally, measures of performance were collected and all participants received individualized feedback and coaching based on their assessment results.
Outcomes
The approach worked and the results were clear. Individuals who did well on the assessment were also performing well on the job and vice versa. The assessment helped set the standard for current and future hires.
The analysis also showed that employees who met the standard had higher attendance at work, stronger organizational commitment and were better at achieving their sales objectives than employees who did not meet the standard.
The Company has achieved the following results:
Now spending their training budget wisely
Set a benchmark standard for their current and future employees
Improved their employee attendance and organizational commitment as their employees reach the new standard
Salespeople are more likely to reach their sales objectives
They save thousands in indirect costs and in reducing turnover for every employee who meets the new standard
The Company now knows what their employees need and they also have the tools necessary to be successful. As they work to train their employees to meet the new benchmark standard, they continue to see an impact on the company's bottom line.
The difference between acceptable and unacceptable employees in the billing group is so significant that for every unacceptable employee who improves to meet the acceptable standard, the Company will see a return of approximately $11,000 per employee per year.
---
Improving Close Ratios for Outward-Bound Call Center Agents
+
The Situation
Selling auto and homeowner's insurance policies is never easy. Convincing customers to switch from their current provider to policies that your company offers is even harder.
One of the key challenges faced by an organization that offers multiple services, including insurance, is to leverage your customer base and try to expand the scope of services your customers use while not alienating them from your core offerings. It's a fine line to walk.
This organization wanted to improve the selection of these customer service agents (CSAs). The key metrics of interest were the number of home and auto policies sold, as well as the close ratio for those two products.
The Solution
Customized profiles of the Select Assessment for Customer Service (SACS) were created for this organization based on an analysis of the job and previous research findings. The SACS hiring assessment system, which incorporates personality, realistic sales and service scenarios, typing and multitasking simulations into a concise and interactive package was utilized as part of the selection process for these CSAs.
To evaluate the effectiveness of the SACS solution, a group of current salespeople took the hiring assessment.
Outcomes
Comparisons of individuals who "did not meet" the SACS profile, and those who "met" the SACS profile are shown in the following two graphs: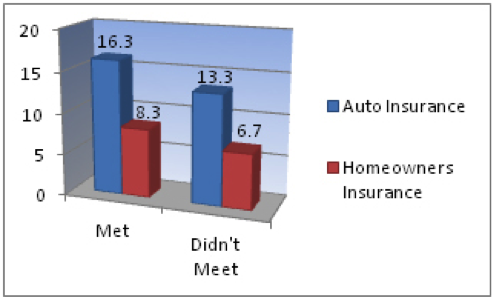 22% more auto insurance sales
25% more home insurance sales
38% higher monthly closing rate for auto insurance
98% higher monthly closing rate for home insurance
What is perhaps most impressive about these results is that they are for individuals who are already in the job, have been trained and have experience in selling these policies. The only difference was that some individuals met the SACS profile and some didn't. For home insurance sales in particular, this difference resulted in a close rate that was almost twice as high for those who met the profile. Clearly, these results translate into significant revenue for this organization over time.
---
Diagnosing Sales Success for a Medical Device Company
+
The Situation
An award-winning, market-leading manufacturer and distributor of high-tech medical devices was troubled by an increase in the turnover of their salespeople. They wanted to address the problem, but realized that they didn't fully understand what was motivating their sales force.
Before making any changes to their incentive plans, compensation or personnel selection process, they wanted to diagnose the issue in order to develop a strategic plan for addressing the problem. They felt that gaining a better understanding of their top performers would help them to develop a success profile against which future employees would be compared.
Specifically, they were looking for a sales hiring assessment that would provide a comprehensive description of their sales team and tell them what kinds of characteristics, styles and motivators they should be looking for in order to hire effective salespeople.
The Solution
Select International's Select SalesPro assessment fit the bill perfectly. Like many other hiring assessments, it measures sales-relevant personality characteristics and problem-solving skills. But, unlike other assessments, it gathers information about one's sales style and sales motivators, otherwise known as drivers.
This aspect was especially attractive to the client organization because they wanted to know how to pick the right people for their type of sales environment and keep them motivated.
A study was conducted by asking their entire sales force to complete the Select SalesPro assessment. The test results were compared to supervisor ratings of performance as well as sales performance metrics. This analysis accurately identified the characteristics, style and motivators that led to sales success.
Outcomes
The Select SalesPro assessment provided the kind of information they needed to develop a strategic plan for their sales department. In this particular organization, the assessment indicated that the most highly rated salespeople were more likely to take accountability for their actions, accurately analyze situations, manage their time effectively and read people well.
Successful salespeople were also more likely to be motivated by achievement and affiliation, and those highly motivated by money were actually more likely to be poorer performers.
A predominant sales style definitely surfaced within this organization. A vast majority of the participants were focused on building long-term relationships with their customers and were interested in identifying their customers' underlying needs, building the right solutions for them. Individuals who were more interested in short-term rewards were less successful.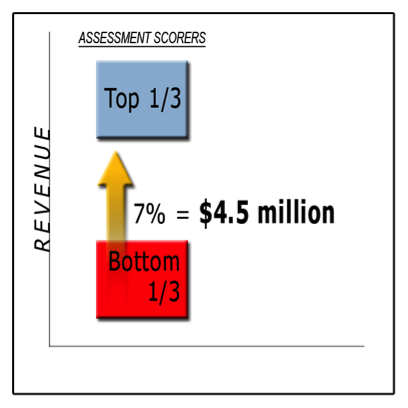 A more detailed look at how using the assessment could impact the company's bottom line shows that the top third assessment scorers sold 7 percent more annually than the bottom third. If the bottom third of their sales team was to increase their annual sales by 7 percent, the company would bring in over $4.5 million more annually.
In sum, Select International's Select SalesPro assessment was the diagnostic tool this organization needed to identify a success profile of their salespeople. As such, the organization is developing a strategic plan for building the hiring resources to select, hire and retain a high-performing sales force.
---
Getting on the Right Track by Selecting Top Sales Talent
+
The Situation
With more than 1,200 retail stores nationwide, a popular office supply retailer also operates a large North American Business Solutions Division. This group is made up of a large business-to-business sales force that services the office supply needs of mid-size to Fortune 100 organizations.
Consistently finding the right salespeople became an issue for this Company. Its hiring managers were following different processes for hiring assessments and relying heavily on unstructured interviews, which resulted in a lot of hiring by "gut instinct."
In 2007, the Company decided to design and validate a new selection process for these important sales positions. After an extensive search, they partnered with Select International to achieve these important objectives.
The goal of this project was to design a full selection process that would be validated and piloted in one region of the country, followed by a larger rollout to the national markets.
The Solution
Together, we developed a selection system that included a telephone pre-screen, followed by a sales hiring assessment called Select SalesPro , as well as a panel interview that included a custom sales role play. Any assessment tool that is used in a personnel selection process must be validated, meaning that a clear connection must be established between the target position and what is being measured in the hiring assessment.
All the tools in the selection process were validated as part of the implementation. To maximize the accuracy and further validate the in-depth online hiring assessment, the Company conducted a statistical validation study by having a group of current salespeople complete the assessment, enabling the Company to statistically compare the results to job performance ratings.
The analysis showed a very strong relationship between test performance and job performance, thus establishing the validity evidence they needed. Additionally, the results from the study allowed the Company to maximize their chances of hiring the best people by developing their own custom scoring profile for the target positions.
After the design and validation were completed, the Company decided to do a phased rollout of the new hiring process. Because of the big differences between the new process and the old, the Company chose to pilot the new process during the first year of implementation in one region of the country.
This would allow them to work out issues and gather feedback before introducing the new process to the rest of the company. The pilot was conducted in 2008, and the only challenge during the initial rollout was changing the mindset of the managers from using "gut instinct" to using a highly structured and predictive approach.
Outcomes
A year after the pilot was implemented, Select International revisited and reanalyzed the new hiring assessment process. To do this, we compared the sales quotas and goals of those who met the assessment profile as compared to those who didn't. Individuals who met the profile sold over 25 percent more than those who didn't.
This kind of difference makes a big impact.
Considering that the average salesperson brings in $2 million in revenue annually, the Company could increase their annual revenue by $37 million by replacing the individuals who did not meet the profile with people who do. This estimate is based on the sample of salespeople who participated in the pilot. The increase in revenue would be even greater if similar replacements were made nationwide.
In 2009, the selection process was rolled out to the rest of the Company's North American Business Solutions Division.
---
Finding the Right Mix: Identifying the Best Candidates for Holcim's Ste. Genevieve Plant
+
The Situation
Holcim (US) Inc. is a wholly owned subsidiary of Holcim Ltd., and one of the nation's leading manufacturers and suppliers of cement and mineral components. In 2007, Holcim (US) contracted Select International to provide a world-class selection system to assist in hiring the best possible candidates for their new plant in Ste. Genevieve, on the banks of the Mississippi River.
Employing about 250 full-time employees, this state-of-the-art, environmentally-responsible facility produces approximately 4 million metric tons of cement per year, making it the largest cement-producing plant in the nation and the world's largest single-kiln clinker production line.
This project was a pivotal venture for Holcim Ltd. in the Americas, as it was a Greenfield site project costing over $1 billion, resulting in the largest cement facility of its kind. The project's environmental footprint is reduced by both Holcim Ltd.'s internal environmental commitment to the principles of sustainable development, and the extensive Federal, State and Local permitting process.
The result is one of the most comprehensive programs of environmental controls and mitigation in the industry.
To address these critical goals, Select International's selection solution needed to:
Be highly accurate in identifying the most capable individuals to work as technicians in a high-hazard work environment and operate complex state-of-the-art facility equipment
Be highly accurate in identifying the most capable individuals to work in a variety of professional and administrative roles at the new site
Accurately measure workplace safety and risk-taking propensity in candidates due to the nature of many of the roles; risks involve working at heights, working around high-intensity flames, working with corrosive chemicals, etc.
Provide a selection experience perceived as fair and inclusive to the candidates in the greater St. Louis area
Work seamlessly with other local recruitment and assessment providers in the area, both in areas of administration and technology
Holcim needed hiring assessment solutions for the following positions:
Five key technicians who would directly operate or oversee various functions of the facility, including Cement, Quarry, Quality, Power & Control, and Warehouse
Professional and Administrative positions, from Specialist Engineer to Area Leader, Manager and Control Room Operators
The Solution
Select conducted a comprehensive job analysis and facility tour. Because the facility was still being constructed, Select toured the facility most similar in Holly Hill, South Carolina.
The unique jobs there were observed, and various focus groups were conducted to identify the critical competencies for success. This was followed up with competency analysis questionnaires to further develop a profile for success at Ste. Genevieve.
For the five different technician positions, a comprehensive solution was designed that included:
EZ App – an online application process customized to Holcim's needs
Personal Preferences Questionnaire (PPQ) – a motivational fit hiring assessment tool customized to match people with the jobs
Online Resume Builder
EZ Schedule – an automated self-scheduling system
Select Assessment for Manufacturing along with the Basic Mechanical Reasoning (BMAR) test
Professional and Managerial positions completed the Select Assessment for Leader Manufacturing and the Basic Mechanical Reasoning (BMAR) assessments.
Outcomes
The facility started up on schedule, fully staffed with qualified employees. Holcim feels that the process and solution provided by Select International was one of the key reasons for that success.
"Our investment in our Ste. Genevieve start-up was one of Holcim's most significant projects in the United States to date. We partnered with Select International and local community resources to help us develop a hiring process that would enable us to select the world-class workforce needed to operate our showcase facility." – Robert Pickering, Human Resources Manager, Holcim (US) Inc.
---
Answering the Call: Increasing Productivity in a Wireless Provider's Call Centers
+
The Situation
With 89 million customers, the nation's largest wireless carrier knows more than anyone about the importance of providing good customer service. They believe that satisfied customers start with putting the right people behind the phones at their customer service call centers.
The Company has approximately 85,000 employees, with a large percentage of them working in some type of call center or customer service role. Given the number of customer service representatives (CSRs) they hire on an annual basis, they needed a selection process that was efficient and accurate.
In 2008, the Company decided to make some improvements to their process, which included updating their hiring assessment. They required a solution that provided a realistic and accurate assessment, and a partner who supported their clients with personalized service.
The Solution
Select International offered an online hiring assessment solution, the Select Assessment for Customer Service (SACS), which simulates a call center environment and provides information about a candidate's learning potential, personality and multitasking skills.
This assessment has proven effective in numerous customer service environments. The Company conducted a study with their current workforce to ensure that the assessment scoring profile was accurately configured for their CSR role.
The Company administered SACS to 97 of their current CSRs. They then collected supervisory performance ratings and objective performance metrics on each participant.
Specifically, the study examined:
Number of Calls Handled
Transfer Rate
Average Handling Time (AHT)
Schedule Adherence
First Call Resolution (FCR)
Statistical analyses were conducted to determine the strength of the relationship between performance on the test and performance on the job.
Outcomes
The results of the study showed a clear, strong and significant relationship between the SACS hiring assessment and all of the performance measures.
How does this translate to the Company's bottom line? The individuals who scored highest on the assessment (top 20%) were compared to the individuals who scored lowest (bottom 20%), and the performance differences were evident, as shown in the following illustration.
Comparison of Top Performers' and Bottom Performers' Performance Differences
(Modified Select Assessment for Customer Service Profile)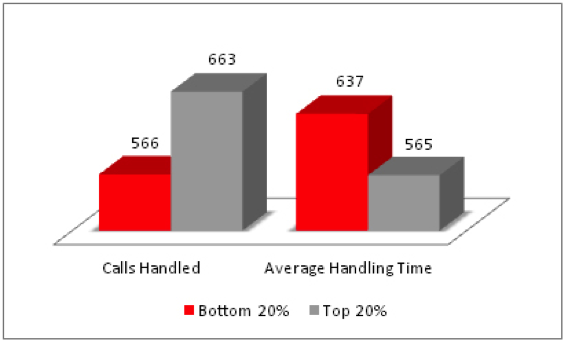 On average, each month during the first year, individuals with high overall hiring assessment scores vs. low overall assessment scores:
Handled 97 more calls
Spent 72 fewer seconds on each call
Had 14% higher FCR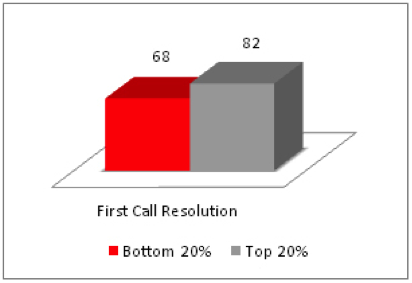 As the Company continues to use the assessment for their future hiring, they can expect to see an increase in the number of calls handled by their agents, in less time and on the first call.
Select Assessment for Customer Service is a comprehensive hiring assessment that is strongly related to important call center performance metrics. It helped the Company increase the quality of their hires, which in turn had a positive impact on their bottom line and, most importantly, on customer satisfaction and retention.
---
Reducing Turnover
---
Curing an Epidemic: Reducing Turnover in Healthcare
+
The Situation
Second only to the hospitality industry, turnover within healthcare is higher than any other industry. There are many reasons for this: The jobs are difficult and often stressful. The hours can be grueling. Clearly, being a healthcare worker isn't for everyone.
This particular organization, Community Services Group (CSG), provides quality residential healthcare services. Founded in 1972, CSG has developed a spectrum of specialized programs to meet the needs of the individuals they serve. Their programs and services include adult mental health and intellectual and developmental disability (IDD), children and eldercare services.
CSG was not satisfied with the level of turnover, especially early tenure turnover (turnover within the first six months on the job). This turnover was creating higher than acceptable onboarding fees as well as adversely affecting patient care.
They decided that they needed to improve the screening process for new employees. This was made more challenging due to the difficulty of recruiting candidates into direct care positions. Using a hiring assessment process that is too intensive and long could potentially screen out too many candidates or compel candidates to simply apply elsewhere.
The Solution
To balance the need for a quick, straightforward and easy-to-administer system that would improve fit and reduce turnover, CSG used Select International's EZ App process. The EZ App process was customized to fit the specific profile of the direct care positions and adapted to quickly screen out high-risk candidates, while also making it easy for high-potential candidates to move through the process.
Outcomes
To evaluate the success of the EZ App process, CSG evaluated turnover and termination rates for:
12 months prior to using EZ App
The first year of using EZ App
The second year of using EZ App
To maintain consistency, they began their analysis in November of each year. The results were both positive and consistent. Turnover began decreasing in the first year and dropped to almost half of its original level in the second year.
Perhaps even more dramatic were the results regarding terminations within the first six months on the job (a clear sign of a bad hire). They dropped by almost half in the first year and were less than 1/3 of their original amount in the second year.
When you consider that terminations resulted from actions such as willful misconduct, abuse or neglect of patients and non-compliance with policy, you can see why these significant reductions are so important. By screening out high-risk candidates early in the process, CSG is able to improve the quality of care for all of their customers.

Figure 1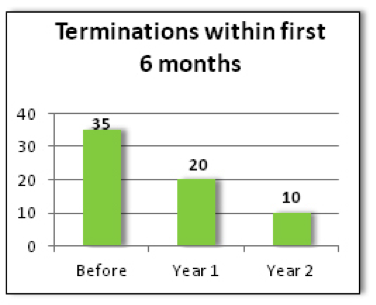 Figure 2
CSG estimated that their first year onboarding costs were approximately $2,400 for a direct care employee. Using this as an estimate, CSG saw a similar pattern in cost savings compared to the turnover and termination results.
These onboarding figures are dramatic. In the second year of using EZ App to screen candidates, the cost of onboarding direct care employees was $57,600 less than before they started using it.
And that's only part of the story: Onboarding costs only take into account direct costs associated with training, recruiting, interviewing and other administrative functions. They don't even take into account less tangible, although arguably more important things, such as patient care and satisfaction, employee morale and the reputation of the facility. These are all clearly impacted by hiring better employees who stay with the organization.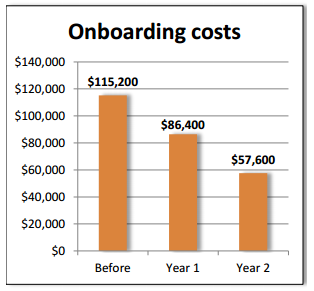 Figure 3
In the end, the results clearly indicate that EZ App, which was customized to meet the specific needs of CSG, was able to significantly improve the screening and hiring of direct care employees at Community Services Group. Sometimes, a simple solution is the one that works best. In this particular situation, that was certainly the case.
"Recruiters and managers continue to be amazed at the overwhelming success we have experienced. Working with the team at Select International was easy because they were committed to deadlines, listened to CSG's needs and most of all, demonstrated considerable knowledge of today's recruitment issues." – Emily A. Hertzler, Director of Human Resources, Community Services Group
---
Reducing Turnover and Absenteeism for Bottom-Line Benefits +
The Situation
Employee turnover is costly, often more so than one would expect. According to a conservative estimate by the Bureau of Labor Statistics, average employee replacement costs are approximately $14,000 per employee. In addition to replacement fees, the true cost of turnover involves hidden costs such as productivity loss, workplace safety issues and a downward spiral in morale.
Although many situational factors contribute to turnover, such as the desirability of the job itself, role ambiguity, workload, stress, leadership behaviors, opportunity for advancement, etc., research consistently shows that certain applicants have a higher propensity for turnover, and those characteristics are often identifiable prior to hire.
For example, new hires are less likely to leave the company if they:
Are higher in conscientiousness (aka work ethic)
Have better motivational fit
Are referred by a current employee
Have friends and relatives working in the organization
Have longer tenure in their previous job
These factors all make intuitive sense. Poor work ethic may lead to poor performance and ultimately terminations. Applicants with a history of short tenure in previous jobs are more prone to change jobs after a short period of time. Additionally, people with a good motivational fit and more contacts in the organization are apt to better understand the nature of the job and the organization.
The Solution
SecureFit was developed as a short and affordable assessment for any entry-level job that has a physical component. The results are automatically generated in real time. Hiring managers receive a report that includes seven risk factor scores as well as a general recommendation classifying candidates into one of the following four categories: Not Recommended (NR), Recommended with Reservation (RWR), Recommended (R) and Strongly Recommended (SR).
The assessment content of SecureFit has been partly adapted and distilled from a longer, more in-depth assessment, the Select Assessment for Manufacturing (SAM), which has proven to be a strong predictor of performance and has been used in a broad range of hourly positions, in manufacturing, warehouse specialist/material handlers, consumer goods, warehouses and various distribution centers.
Additionally, SecureFit builds on a strong research base to create a Turnover Risk index that helps identify individuals who are likely to leave the organization early in their tenure, e.g., in the first 90 days on the job.
This study focused on a group of 1,932 employees who were hired as variable workforce, hourly-level production employees at two different facilities of a large, automotive manufacturer in the United States.
These were not full-time positions and the employees would more appropriately be considered full-time, temporary employees who were hired through a staffing agency. Because of differences in hourly pay, benefits, etc., the turnover rates tend to be significantly higher for this group than for full-time employees.
All candidates for these positions were administered SecureFit as part of the selection process. The results, however, were not used for making selection decisions, nor was anyone in the organization informed of candidates' scores on SecureFit. These individuals were monitored for 18 months. Data was gathered on turnover during that time period.
Outcomes
As stated earlier, SecureFit provides two measures that are targeted at reducing turnover. The first is a Turnover Risk factor. This risk factor provides an index of the probability that the candidate will eventually turnover. It is rated on a 10-point scale with 1 being a very high risk of turnover and 10 being a very low risk of turnover.

Figure 1
Typically, for selection purposes, a cutoff is set on a Turnover Risk of 4, meaning that if a candidate scores less than 4, they would be flagged and likely placed into the Not Recommended or, at best, the Recommended with Reservations category.
This type of decision rule is clearly justified when you look at the difference in turnover rates between the two groups. Individuals who were flagged by SecureFit were two times more likely to turnover than those who were not flagged.
If this organization simply used SecureFit and did not hire the individuals in the Do Not Recommend category, then 84 fewer employees would have turned over. That would be a reduction in turnover by 42 percent. If you were to assume that the cost of turnover here was only one half of the estimate from the Bureau of Labor statistics, this would result in a very conservative savings of $588,000 over the course of 18 months.
As mentioned earlier, there are many factors that impact turnover – some are cultural, some economic and some of them are clearly attributable to the individual. The results of this study demonstrate convincingly that SecureFit provides an effective and proactive means of reducing turnover before it ever occurs.
---
Absenteeism and Turnover in Customer Service Environments
+
The Situation
Customer Service Representatives make up one of the largest occupations in the United States. Most companies rely on their customer service staff to meet their customers' needs. In many ways, they are the face (or voice) of the organization, and they have a strong influence on how customers feel about doing business. According to the Bureau of Labor Statistics, employment opportunities in this industry are expected to grow faster than average over the next decade.
Given the sheer number of jobs available and the importance of these positions to business success, it is critical for the customer service workforce to be productive and reliable. Select International has worked with many companies in this industry, and most face the same challenges: absenteeism and turnover.
Running a productive contact center requires well-trained employees who show up to work and stay on the job. Recently, a company that acts as a third-party contact center for many organizations approached Select International with this same need.
The Solution
To address the absenteeism and turnover issues with the contact center client, Select International implemented ServiceFit, a short screening assessment that is used at the top of the hiring funnel.
It was important to this organization to screen out poor candidates early on in the selection process. The candidates first completed an online application that contained some screen-out questions, followed by ServiceFit.
ServiceFit asks candidates about past behavior experiences and personal beliefs. It focuses on aspects of behavior and personality that, among other things, predict absenteeism and turnover.
The candidate responses are combined and analyzed, placing each applicant into one of four possible recommendation categories:
Strongly Recommended
Recommended
Recommended with Reservations
Not Recommended
The recommendation provides guidance as to whether or not the individual should progress to the next stage of the hiring process.
After implementing ServiceFit, this organization was very pleased with the quality of their candidates. The company has greatly increased their likelihood of hiring friendly, productive and reliable customer service representatives.
Outcomes
Attendance
To evaluate the effectiveness of using ServiceFit to reduce absenteeism, this study investigated the candidates' behaviors and beliefs toward attendance. Specifically, they were asked how many unexcused and unscheduled absences were acceptable in a year's time.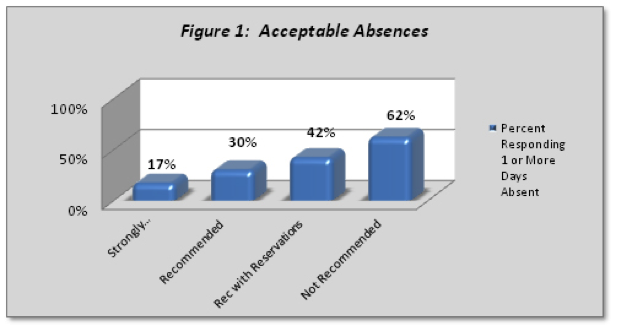 Figure 1
As Figure 1 illustrates, 62% of Not Recommended candidates reported one or more days per year as acceptable. As you move from Not Recommended to Strongly Recommended, the acceptance of unexcused absences declines dramatically.
Individuals who are Not Recommended are 3.5 times more likely to think that at least one or more unexcused absences per year is acceptable than those in the Strongly Recommended (SR) group. In fact, those in the Not Recommended group are almost 2 times as likely as any other group to feel that unexcused absences are acceptable.
Beliefs about absenteeism have a strong link to actual absenteeism. As such, it is safe to say that individuals who receive low scores on ServiceFit are much more likely to miss work without notice than those who receive high scores.
Terminations
To evaluate the likelihood of involuntary turnover, we asked candidates to report the number of times they have been terminated from a job in the past five years. Since past behavior is the best predictor of future behavior, individuals who have been terminated in the past are much more likely than others to be terminated in the future.
ServiceFit screens out these high-risk candidates, as illustrated in Figure 2.

Figure 2
Not Recommended candidates are 3 times more likely to have been terminated in the past. Only 6% of Strongly Recommended candidates have been terminated while 18% of Not Recommended candidates have been.
As these results show, ServiceFit identifies individuals who are more likely to be absent or terminated, saving your organization from spending valuable time processing, training and potentially hiring these candidates.
---
Workplace Safety
---
Reducing Crash Likelihood Using Effective Employee Pre-Screening
+
The Situation
Motor vehicle accidents are the single largest cause of work-related fatalities, accounting for almost 25% of all job-related fatalities. Numerous research studies, including one by the Federal Motor Carrier Safety Administration (FMCSA) point to driver-related factors as the primary cause for the majority of crashes involving large trucks. In fact, a recent study showed that 20 percent of all truck drivers account for almost 80 percent of truck-driving accidents.
What are the driver behaviors that relate to accidents? There are a number that come to mind, but most come down to controlling emotions, maintaining focus and attention and acting responsibly.
According to a survey of workplace safety managers, the top 3 personal factors associated with risk (and therefore accidents) were:
Aggressiveness/anger
Impatience/impulsivity
Inattentiveness
There are sound reasons for these factors. Aggressive/impulsive drivers are more likely to become upset when they are cut off or not allowed to merge at a reasonable pace, and therefore have a higher likelihood of being involved in road rage-related accidents.
Impatient or impulsive drivers often have a hard time managing their emotions and tend to make rushed, poorly thought-out decisions, including driving when they are overly fatigued, running red lights, etc.
Inattentive drivers are likely to miss subtle driving cues, fail to pay attention to the road in front of them or the drivers around them, and therefore pose a serious risk to both themselves and others.
The Solution
Select International extensively studied the research related to high-risk driver behavior and accident involvement when developing RoadWorthy – a short and affordable online hiring assessment. This assessment helps trucking firms to quickly and accurately screen high-risk candidates out of the candidate pool.
RoadWorthy focuses on key risk factors associated with driver behavior, including:
Accident & Violation
Road Rage & Aggression
Volatility & Impulsivity
Attitude & Abrasiveness
Unreliability
Absenteeism/Tardiness
Turnover
To see how effective RoadWorthy is at reducing high-risk behaviors, we conducted a study with a commercial trucking firm. In this study, we administered RoadWorthy to a group of 92 candidates who applied for a long-haul driver position. RoadWorthy combines these risk factors into an overall recommendation.
Candidates fall into one of three categories:
Not RoadWorthy (high risk)
Potentially RoadWorthy (some concerns)
RoadWorthy (low risk)
Outcomes
We evaluated how well RoadWorthy's recommendation related to two outcome variables that are associated with high-risk behavior:
Number of traffic violations
Number of times their license had been suspended
The results are shown in Figures 1 and 2.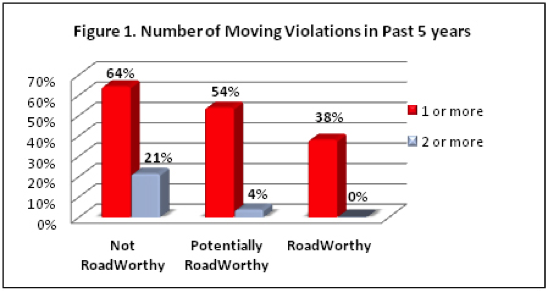 Figure 1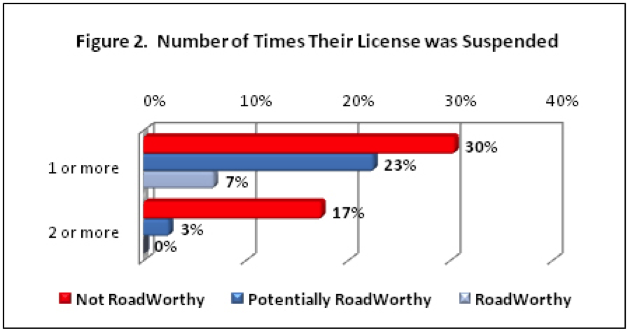 Figure 2
Perhaps the most interesting aspect of the results is that 21% of the Not RoadWorthy candidates had two or more moving violations compared with none in the RoadWorthy category. According to a study by the American Transportation Research Institute, based on a sample of over 540,000 drivers, on average, a driving violation increases the likelihood of a crash by 114%.
The results are very straightforward. 17% of Not RoadWorthy candidates had their licenses suspended two or more times. Although 7% of RoadWorthy candidates had one license suspension, they were 4 times less likely to have had their licenses suspended, even once, compared to Not RoadWorthy candidates.
It's also important to recognize that RoadWorthy accomplishes these results by not being overly strict or setting an unrealistic bar to jump over. In fact, only 25% of candidates fell into the Not RoadWorthy category.
Thus, by screening out just 25% of candidates, this organization is able to significantly reduce the likelihood of hiring a high-risk candidate and greatly reduce their potential for accidents and other negative incidents.
---
Reducing Injuries by Effective Screening: The Results are Impressive
+
The Situation
People who work in a high-paced manufacturing environment that requires you to lift, squat, twist and turn many times a day are more susceptible to injuries than those in less physically-demanding environments. Even in the best engineered, most ergonomically-friendly environments, injuries are often hard to avoid.
According to a 2001 Liberty Mutual study, indirect costs of accidents are 2 to 5 times higher than the direct costs associated with every accident. This figure is similar to the Occupational Safety and Health Administration (OSHA) estimate that for every dollar spent on medical expenses for a workers' compensation claim, an additional $4 for indirect workers' compensation costs is incurred.
Also, for every dollar of disability (lost time) expenses paid for a workers' compensation claim, OSHA estimates an additional $2 to $10 is incurred in indirect workers' compensation costs. Considering that in 2007, the average workers' compensation claim was $46,800, the total cost (direct and indirect) would be over $250,000.
The Solution
Select International worked closely with an auto manufacturing organization to install a very sophisticated pre-screening process. The process was multifaceted and multistaged.
The hiring assessment focused on a wide range of factors associated with success on the job, as well as workplace safety orientation. Part of the process also included a 6-hour production simulation that replicated many of the core physical skills of the jobs.
Because the facility was quite large and employed almost 4,000 hourly production employees, a new hire might be assigned to one of over three dozen specific jobs. For that reason, the hiring assessment focused on the core activities required by all of these positions.
To track the success of the new selection process, the organization's Health and Safety group monitored injury data for a one-year period for employees hired before the system was implemented, as well as for those employees hired using the new selection process.
Two major categories of injuries were tracked by the organization:
Acute Strain: These refer to any injuries due to a one-time event, such as a muscle tear, wrenching a knee, etc.
RSI: These are repetitive strain injuries, such as chronic bad backs, continuous soreness and ongoing aches and pains related to repetitive motions.
Outcomes
The results were dramatic and can be seen in the following graph:

Figure 1
During this one-year period, 497 individuals from a group of 3,932 employees hired prior to the new selection process reported an injury of one type or another.
During that same time period, only 10 out of a group of 294 individuals hired using the new process reported injuries. In other words, individuals hired using the new hiring assessment were four times less likely to suffer an injury.
Not all injuries are severe and require days off of work. However, to be recorded, these injuries needed to be severe enough to be reported to the Health and Safety group at this organization and require some form of downtime.
Even if you considered only the cost of the average workers' compensation claim, and no additional indirect costs, reducing injuries at this level would save the organization approximately $17 million on a yearly basis ($23,259,600 vs. $6,256,598).
There are many reasons why accidents happen. However, it's clear that doing a better job of screening candidates before they are hired in the first place prevents some of these accidents.
---
Does Leadership Matter in Reducing Accidents?
+
The Situation
Increasing workplace safety and reducing accidents at work is typically considered a top priority by both employees and management. Beyond the obvious reasons associated with minimizing the often-debilitating injuries and psychological trauma that accidents cause, there are bottom-line reasons for improving workplace safety.
For instance, according to a 2001 Liberty Mutual study, indirect costs of accidents are between 2 to 5 times higher than the direct costs associated with every accident. This figure is similar to the Occupational Safety and Health Administration (OSHA) estimate that for every dollar spent on medical expenses for a workers' compensation claim, an additional $4 for indirect workers' compensation costs is incurred.
Also, for every dollar of disability (lost time) expenses paid for a workers' compensation claim, OSHA estimates an additional $2 to $10 is incurred in indirect workers' compensation costs.
Considering that in 2007, the average workers' compensation claim was $46,800, the total cost (direct and indirect) would be over $250,000. If that organization runs at a 10% profit margin, it would need $2.5 million to offset those costs.
Now, imagine that you are in an industry that has higher than average "exposures" to dangerous events. For instance, what if you were one of the world's largest manufacturers of explosives? Those explosives are used predominantly in the mining industry. As expected, the manufacturing and deployment of explosives provides numerous opportunities for catastrophic injury. This particular organization works aggressively to reduce exposures and create a workplace safety culture.
As part of their ongoing commitment to improving safety for all of their employees, they decided to implement a global process for developing front line leaders. They identified that front line leaders play a key role in accident prevention and promoting a workplace safety culture.
The Solution
The organization turned to Select International to create a customized solution for assessing and developing current leaders' safety leadership capabilities and potential. Select International customized a solution that is known as the SafetyMirror for Leaders.
It incorporates aspects of Select International's existing hiring assessment for front line leaders, the Select Assessment for Leadership in Manufacturing and a tailored safety component that focuses on beliefs regarding safe behavior, risk taking and even ethical decision making.
As a first step in the implementation of the new assessment, a pilot study was conducted in Sweden. The organization kept records for their production leaders and supervisors on the number of documented safety incidents that occurred on a yearly basis between 2000 and 2008. Incidents fell into four major categories:
General learning incidents
Minor incidents
Recordable incidents
Fire or explosion incidents
Outcomes
Based on an analysis of the job, a profile was established for the SafetyMirror for Leaders. There are 11 competencies in the assessment and a minimum score was established for each of them that helped define a "footprint" or "profile" for successful leaders.
A group of 43 current leaders took the assessment. The results indicated that the majority of competencies and the overall footprint were related to actual incidents. Additionally, when the profile was applied to this group, the results were startling (see Figure 1).

Figure 1
On average, leaders who missed two or fewer competency minimums had 0.44 incidents in their group per year. Leaders who missed three or more of the competency minimums had, on average, 7.17 incidents per year.
Applying the OSHA and Liberty Mutual estimated accident costs to these numbers would result in millions of dollars annually of direct and indirect costs for those leaders who perform poorly on the SafetyMirror for Leaders.
There are many factors that go into creating a safe work environment and a culture of workplace safety. One of those factors is the attitudes and behaviors of the front line leaders. The results of this study clearly indicate that the differences are real and that safe leaders can be accurately assessed and selected.
---
Does Leadership Affect Safety Incidents? You Bet it Does!
+
The Situation
According to recent estimates from the National Safety Council, the average cost of a medically consulted injury, including wage losses, medical expenses, administrative expenses and employer costs was $39,000 in 2012. This lines up closely with the average worker's compensation claim of $36,592 for the same time period.
Clearly, injuries are costly to organizations financially but they are also costly from a morale and organizational culture perspective. Research consistently shows that a strong safety culture greatly impacts the rate of injuries as well as near misses and other leading indicators of injury. Where does a strong safety culture come from? Primarily it comes from strong leaders.
Leaders help create the safety culture of their teams as well as the broader organization. Their day-to-day interactions with employees help determine whether safety is a driving value or a buzz word. Creating a vision, communicating effectively, providing timely feedback and establishing trust and credibility are core components of effective leadership that drives safety outcomes. These leader behaviors influence every aspect of a work site – the physical environment, the workforce, and the systems and policies, which in turn, drive organizational safety performance.

But how do you go about evaluating leadership, and does it make a difference in safety outcomes?
The Solution
SafetyMirror® for Leaders is a powerful tool that accurately assesses individuals on the four primary factors that predict safety outcomes, as well as core leadership styles that impact performance, in terms of productivity, morale and most importantly, safety culture.
The primary focus of this particular study was to evaluate the accuracy with which the SafetyMirror for Leaders assessment related to work group safety incidents.
A fossil fuels energy company had 185 leaders from 12 different sites complete the SafetyMirror for Leaders assessment, which takes under an hour to complete online. The front-line leaders, who were either foremen or general foremen, oversaw various craft positions including welders, electricians, boilermakers and pipefitters, as well as general laborers, who maintained the power generating facilities on a daily basis. Average crew size for foremen averaged approximately 10 individuals but could swell to upwards of 60 during site shutdowns, or "outages," when upwards of 800 temporary employees would be hired in a two-week period to repair or replace equipment, conduct audits, calibrate equipment, etc.
Safety incident rates for the crew supervised by each foreman and general foreman over the previous two year period prior to the assessment were gathered. These incidents included first aid and doctor's visits as well as OSHA recordable injuries.
One of the outputs for the SafetyMirror for Leaders tool assimilates all of the information in the assessment and categorizes leaders into one of three groups: High (strong leadership and safety profile); Medium (moderate leadership style and safety profile) and Low (ineffective leadership style and safety profile).
Outcomes
The chart below shows the percentage of safety incidents by leadership category. The results are straightforward and dramatic. Leaders in the Low Score group were associated with over one-half of all safety incidents during the two year period.
In fact, crews supervised by low and medium score leaders accounted for 85% of all safety incidents during that time period. Clearly, effective leadership makes a huge impact on the safety climate of the group and ultimately on the safety incidents of their teams.
The question now becomes what to do with this information? There are two answers.
The first is that organizations can use the SafetyMirror for Leaders tool to screen ineffective leaders in the first place and therefore greatly improve the likelihood of creating strong safety cultures.

The second is that the SafetyMirror for Leaders assessment is only the first step in a development process designed to raise awareness for leaders and then to focus on improving their leadership style. Through a series of one-on-one coaching sessions and focused workshops, leaders learn how to communicate safety effectively, to set vision and direction, to provide constructive feedback on at-risk behaviors, and to drive safety culture.
The organization in this particular study now uses both of those approaches, and utilizes the SafetyMirror for Leaders Program to improve the leadership style and effectiveness of their first-line leaders as part of their continued effort to improve their safety culture and reduce incidents.
Summary
The results of this study provide clear and compelling evidence that leadership significantly impacts safety incidents. It also shows that the SafetyMirror for Leaders assessment provides a straightforward, easy-to-administer and unbiased measure of safety leadership that significantly relates to team incident rates.
Understanding your safety leadership profile and how it impacts incident rates is a first step in developing effective leadership behaviors to build strong safety cultures.
---
Predicting Workplace Safety: Reducing Accidents in your Organization
+
The Situation
No other aspect of work is more important than ensuring the health and well-being of oneself and of others. While there are many factors that contribute to accidents, it is clear some individuals are more likely to engage in high-risk, unsafe behaviors.
For instance, in the trucking industry, 20% of drivers account for almost 80% of all driving accidents. This 80/20 pattern is similar to what is found in other industries when it comes to counterproductive behaviors, including workplace accidents and injuries.
In addition to the health and welfare of the individuals involved, accidents are costly to the organization in terms of insurance, equipment and goods. Estimates vary, but according to the Occupational Safety and Health Administration (OSHA), for every dollar spent on medical expenses for a workers' compensation claim, an additional $4 for indirect workers' compensation costs is incurred.
Also, for every dollar of disability (lost time) expenses paid for a workers' compensation claim, OSHA estimates an additional $2 to $10 is incurred in indirect workers' compensation costs. Considering that in 2007, the average workers' compensation claim was $46,800, the indirect cost would be over $250,000.
Wouldn't it be great if an organization could identify unsafe individuals before they were hired? Through our extensive workplace safety research, Select International developed SecureFit – a short and affordable online hiring assessment that does just that.
A review of the workplace safety literature concludes that, in addition to a workplace having a strong safety climate and leaders committed to safety, certain characteristics of individuals contribute to improved workplace safety.
The Solution
Given the direct and indirect costs of accidents, companies benefit greatly by hiring safety-minded individuals who are more likely to follow workplace safety procedures and less likely to be involved in accidents. SecureFit is the tool to help them accomplish this goal. It was developed with physical, hourly jobs in mind. SecureFit builds on a strong research base to identify high-risk candidates. It uses a Safety Risk Index that identifies individuals who are more likely to engage in unsafe behaviors and/or be involved in workplace safety incidents.
A recent study showed that the Safety Risk Index helped a large manufacturing firm reduce accident rates by approximately 70% over a 5-year period.
To show exactly how effective SecureFit is in helping to reduce high-risk behaviors, we conducted a study with a global manufacturer. In this study, we administered SecureFit to a group of over 17,000 candidates who applied for an hourly production position.
Outcomes
In this study, we examined how well SecureFit could predict workplace safety outcomes (tangible events such as accidents and injuries) and safety performance (safety-related behaviors such as following safety procedures, using safety equipment and encouraging others to follow rules).
First, we assessed how well SecureFit could predict an important workplace safety outcome – the number of accidents at work – by asking candidates how many work-related safety incidents they had been involved in within the past 5 years.
As Figure 1 shows, 14% of candidates who were Not Recommended reported that they had been involved in at least one safety incident, while only 3% of candidates who were Strongly Recommended responded so.
This means that Not Recommended candidates are nearly 5 times more likely to have been involved in a work-related safety incident than Strongly Recommended candidates, and 2.5 times more likely than Recommended candidates.
We also looked at safety performance by asking candidates about their workplace safety compliance: how likely they would be to report coworkers who break safety rules. Employees who are willing to report workplace safety violations are more likely to engage in safe work behaviors themselves and promote a better overall safety climate at work.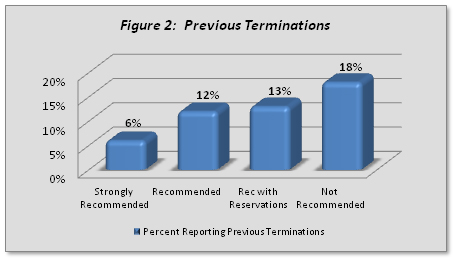 As Figure 2 shows, only 20% of Not Recommended candidates would actually report rule violations. This compares to 54% in the Recommended category and 77% in the Strongly Recommended category.
Clearly, by screening out individuals with a higher propensity for safety-related incidents and screening in those who are likely to comply with workplace safety rules and to report those who break safety rules, the organization's safety culture is greatly enhanced.
---
Understanding Your SafetyDNATM Reduces Recordable Injuries
+
Authors: Esteban Tristan, Ph.D., Christopher Klinvex, MBA, Matthew O'Connell, Ph.D., & Alli Tenbrink, M.S.
The Challenge
From 2010 to 2012 OSHA recordable incident rates have essentially plateaued with a reduction of less than 3% over that time period. In addition, according to the DOL, more than one-half of the 3.0 million private industry recordable cases were of a more serious nature that involved days away from work and job transfer or restriction.1 In 2012 these occurred at a rate of 1.8 cases per 100 full-time workers, statistically unchanged since 2009. Traditional safety initiatives that focus on training, policies and engineering are having some impact, but they are not enough if your ultimate goal is a Zero Harm workplace.
A critical flaw that safety initiatives make is they approach safety from a technical perspective rather than a personal one. No one asks the simple question which is, "Regardless of training, are certain individuals innately safer than others, and if so, why?" Intuitively we know the answer is yes! Yet, more importantly, now there are scientific data to show how vastly different individuals are in terms of the psychological traits, known as SafetyDNA, which are most closely related to exposure and at-risk behavior. By understanding one's SafetyDNA, individuals become proactive in reducing their risk for injury.
The Solution
SafetyMirror® is a powerful safety culture development program that accurately assesses individuals'
SafetyDNA. Once assessed, individuals then experience the SafetyMirror Workshop to learn about the traits that make up their SafetyDNA. Through this process, participants become increasingly aware of how these safety traits serve to reduce or increase their exposure to risk. The SafetyMirror Workshop is experiential, meaning participants quickly learn through simulations how differently they respond to exposures and, most importantly, how this impacts the likelihood of them being injured. After the workshop, participants go through brief coaching sessions to receive their specific SafetyMirror results from a certified coach. In that session, they learn about their personal Safety profile, explore their exposures at work and focus on actionable safety behaviors that will directly reduce their risk. What makes this personal safety program effective is its simplicity and focus on each individual having unique SafetyDNA.
1 U.S. Department of Labor, Bureau of Labor Statistics, News Release, November 7, 2013 USDL-13-2119.
---
---
Have a question about an HR case study on increasing workplace safety or reducing turnover in your organization? Click on the button below to receive more hiring tips and to connect with a selection expert from Select International today.