Employee SafetyDNATM
The Key Measure for Safer Training, Development and Hiring
Traditional employee safety programs focus on safety knowledge. The strategy boils down to this: "If they knew better, they'd do better."
Safety courses abound for any subject, and once they're delivered, companies assume new employees know better. But, if you do an honest workplace safety assessment, is simply knowing enough to change your employees' safety behaviors? While knowing is important, what individuals ultimately do with that knowledge varies greatly. Why? SafetyDNA.
What Is SafetyDNA?
Safety knowledge + SafetyDNA = Safety behavior.
SafetyDNA refers to the innate personal traits that are directly related to employee safety. A few examples include:
Staying in control
Awareness of surroundings
Following rules
Exhibiting caution
There is significant research showing that individuals who are naturally high in these areas have much better employee safety. This should be no surprise to anyone who's raised children and seen how much variance there is when it comes to how each child perceives risk. As they grow up, those innate qualities remain fairly stable. We explain these differences by saying that one child is risk averse or another is accident prone. However, this is an overly simplistic way of describing SafetyDNA.
Why Is
Safety

DNA Important?

SafetyDNA unlocks the mystery as to why certain groups of individuals are more likely to be involved in safety incidents, as well as why some are more prone to severe incidents. This is a breakthrough for all organizations striving to improve their workplace safety. For the first time, it allows them to consider their employees' unique SafetyDNA and to provide individual, targeted safety plans. We now approach personal employee safety on a personal level.

Workplace safety begins with the individual employee, and there are specific factors that consistently impact personal safety outcomes. By identifying and measuring these factors, organizations are able to decrease high-risk behaviors, safety incidents and work-related injuries, as well as decrease costs associated with turnover and time-to-hire.

Personal Safety Development:

SafetyMirror® Program

In the past, employee safety has been evaluated using lagging indicators such as recordable injury rates, workers' compensation claims or, in the case of the insurance industry, moving violations and accidents. Though these are useful, they register only after the incidents occur, not before. They tell you where you have been, but not necessarily where you are going. They focus mostly on previous injuries, as opposed to focusing on present and future exposure to injury.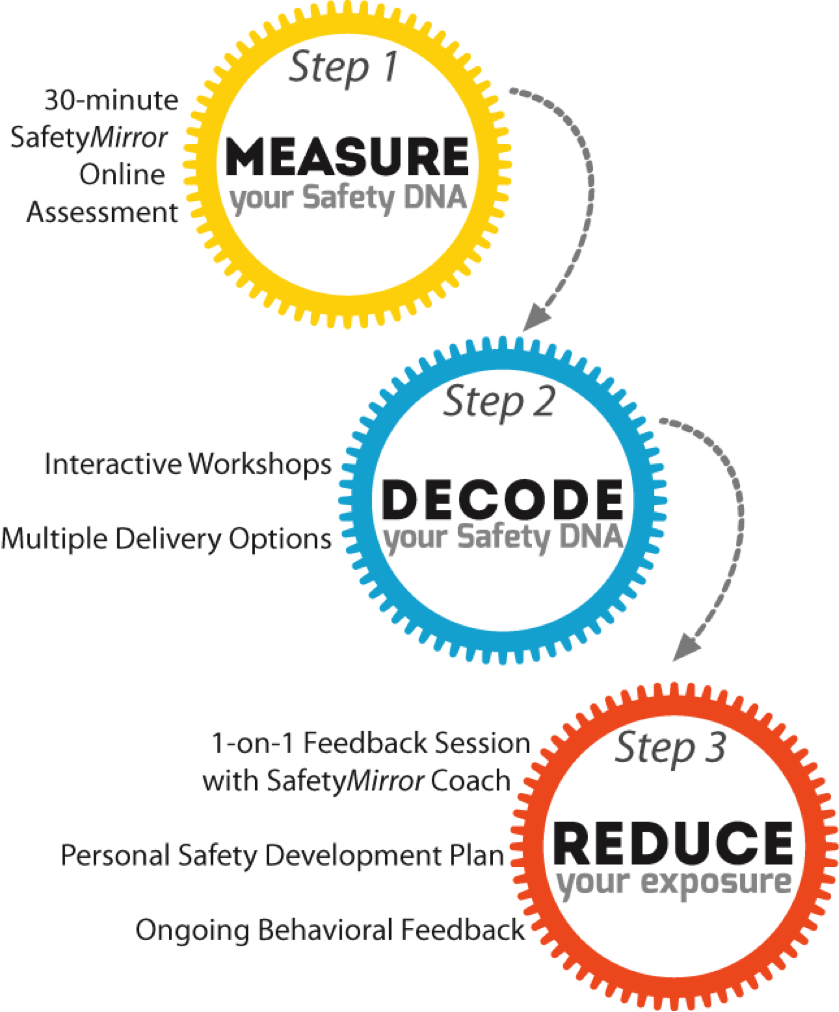 Organizations seeking to take their safety performance to the next level need to know which employees are at risk of injuring themselves or others before an incident occurs, and what can be done to prevent the incident from occurring. In other words, they need to take a proactive approach to personal safety by starting with individuals and how their unique SafetyDNA may increase their exposure.
Enter the SafetyMirror Program, Select International's suite of employee safety tools. The suite is built around the SafetyMirror test, a proven, 30-minute workplace safety assessment aimed at assessing an individual's likelihood of being involved in a safety incident. The research model is based on Select International's Four Factor S.A.F.E. Model, which is demonstrated to not only predict the likelihood of being involved in a safety incident, but also whether it will be a minor incident requiring only first aid or a more serious incident.
Research shows that individuals scoring in the "At Risk" category are 35 times more likely to suffer a lost-time recordable injury than those scoring in the "Safe" category.
Most comprehensive safety management systems state that there should be an effective pre-employment screening tool in place to measure a candidate's safety profile. Unfortunately, there have been few workplace safety assessment tools available that accurately and reliably provide this critical data point … until now.
Select International tests millions of applicants each year, with many of these assessments measuring safety orientation. Our clients use this specific competency as part of their overall criteria for new hires. It's simple, and it's the responsible thing to do. Recently, the safety component of our assessments has taken on even more importance as organizations demand more rigorous screening of candidates' safety orientation.
As a result, we now offer a full suite of validated assessments that are specifically designed to help you find safer employees, regardless of industry or level within the organization: