Safety Can Be Made Personal
The field of safety has made great strides in recent decades to improve employee health and well-being. Many advances have focused on policies and procedures, training, or behavior-based safety (BBS) programs. While these efforts have made significant contributions to workplace injury reductions, they have overlooked a very important factor – the psychological characteristics of the individual. Research in the field of psychometric assessment now makes it possible for us to arm employees with invaluable information about their unique, personal "blind spots" related to safety. Based on decades of published research, these blind spots are the key psychological factors (e.g., personality traits, mental abilities, attitudes) that increase our exposure the most.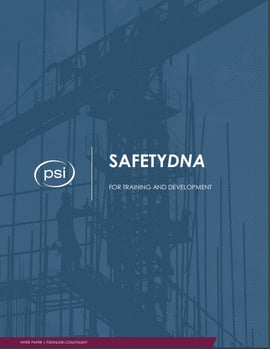 This methodology can serve as the foundation for personal safety development by providing new insights into the root causes of at-risk behaviors, resulting in a clear path forward for behavioral change. For the first time, safety can be made truly personal by providing scientific and quantitative information about why people do the things they do, and how this puts them at differing levels of risk. Such change can occur through many avenues, which will be covered in this paper.
What you'll learn:
What is a Safety "Blind Spot"
The Four Factor S.A.F.E. Model
The Four Personal Safety Styles
SafetyDNA

Applications for Improving Safety

Behavioral Coaching & Action Planning

Toolbox Talks / Safety Meetings

As part of Traditional Training on Safe Work Practices